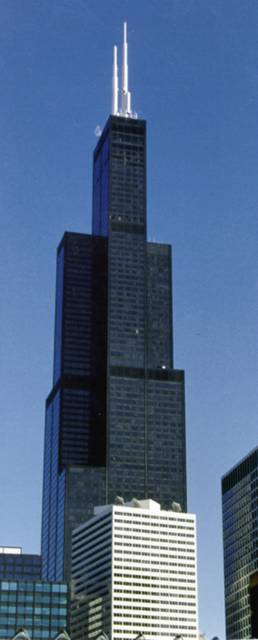 Chicago
the Sears Tower
American Wheelchairs and Things
I was listening to WLS talk radio today on the internet out of Chicago. Don Wade and Roma the hosts, were talking about an Illinois State Employee who had worked over 20 years for state government, in a repair shop fixing state equipment and such in a nature park.

He had lost his leg in an accident on the job years earlier, and the State paid for a special wheelchair that could prop him up from a sitting to a standing position so that he could continue his work for the State.

Well they laid him off, and since the wheelchair was State property, they took that also and left him on the street.
So people were calling in giving their opinions, and one lady in particular agreed it was a good thing the State took its property back because her taxes were too high anyway.

That 25,000 dollar wheelchair especially built for him now sits in a State warehouse gathering dust.
That is State government in Illinois. That reminded me about my own situation with my mother before she finally died of leukemia; a slow process that took seven years, that included many amputations including her right leg.
My mother was on Medicare being over 65, and her health care provider was a State licensed for profit HMO

(profits of 8%-20% yearly,)

that had won the Government contract to manage the Government Medicare Program in our area.
About the same time I was fighting the HMO trying to get my mother an electric wheelchair
,
(she was frail and thin and could not manage a manual one, and I was unemployed at the time living and caring for her in an apartment) ,
the Feds raided the Hospital in our neighborhood (northwest of Chicago,) and jailed several high income doctors on staff for double billing Medicare for services never performed.
They scammed billions. It had been going on for years.
The Health Care Provider said they would review my mother's claim a process that would take six months.

To make a long story short I started calling lawyers out of the phone book. One lawyer told me

"the way politics are in Federal Government I should forget it. He was a lawyer and could not get one for his mother."



I got lucky and found a specialist. On the phone he wanted me to make an appointment, and he wanted a big fee upfront, and he told me that there was a law that would make it possible. He offhandedly mentioned

"Elder Law."



I called the State of Illinois Department of Insurance, and was lucky to reach a nice young lady training on the job, smart and idealistic. I asked her to look up

"Elder Law" on the internet,

and had explained the problem and given her my mother's government health care number. She said she and nobody in her office at the

State of Illinois Department of Insurance, had ever heard of "Elder Law."



Some time later the Illinois Department of Insurance called back, the same young lady said,

"I found that Elder Law, its very specific and long. Your mother will get that wheelchair, its in the Law."



So, because I was not a lawyer, and because another lawyer mistakenly mentioned the word

"Elder Law,"

and I called and got hold of the right person,

the Illinois Department of Insurance found out about "Elder Law,"

and my mother finally got her electric wheel chair

three weeks before she died,

(the Health Care Provider was ordered by the State to supply it.)




Stumble It!
Post a Comment
<< Home