Barcelona, Spain One of My Favorite Cities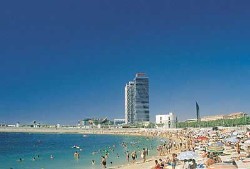 Barcelona,
Spain
*
Barcelona Website/English
*
Barcelona Photos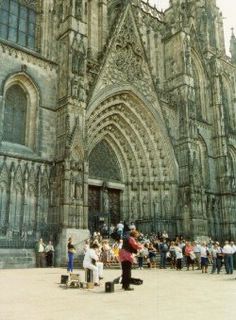 Barcelona is one of the few European cities that has Kentucky Fried Chicken and Dunkin Donuts, and huge Texas style steaks from Argentina, and even a University of Chicago branch (Chicago my hometown), and tropical drinks, and a layback lifestyle and discos and bars open till the wee hours.
anti-Bush, anti-War Demonstration
Barcelona, Spain
Driving from the airport towards the hotel I saw posters of Madonna posted everywhere. It also has lots of American tourists that pass through on their cruise ships. The ones I saw were mostly elderly, many wearing red, white and blue, some with huge Uncle Sam photos on their tee shirts. (Not a thing to do in Spain, remember they lost Florida, and Cuba, and the Phillipines to one of America's Wars of Liberation.)


To balance out these overly patriotic American travellers, Barcelona also has lots of anti-Bush and American Imperialist graffiti everywhere. I love Barcelona.
I

nside Market: blocks and blocks
of fruits, dairy, meats, fish, vegetables
herbs, spices, coffee, liquors etc
*
More Barcelona Photos
Barcelona

abounds in quiet streets and balconies of every color and design. Romantic architecture from a bygone era.
Las Ramblas boulevard

is world famous for its artistic flair, flower stands, restaurants, and comedy acts live on the street. Portrait and
landscape artists paint for you on the spot.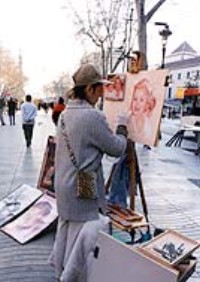 Portraits to go
Drop a dollar, she moves and dances.
One of many different acts even a
Wild West shootout

Barcelona boasts wide streets and avenues. In recent years hundreds of special crafts, fashion, jewelry, foods, and furniture stores have opened, and the new spirit of entrepreneurism is clearly visible on every street and corner.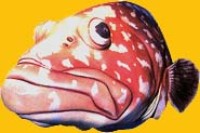 One of the most impressive testimonials to sea life anywhere.

The largest aquarium in Europe,

it contains 21 glass tanks positioned along either side of a wide curving corridor. Each tank depicts a different marine habitat, with emphasis on everything from multicolored fish and corals to seagoing worms to sharks. The highlight is a huge "oceanarium" representative of the Mediterranean as a self-sustaining ecosystem. You view it from the inside of a glass-roofed, glass-sided tunnel that runs along its entire length, making fish, eels, and sharks appear to swim around you.

*

Barcelona Aquarium





My Favorite Barcelona, Spain Photos



Barcelona at night, on the beach
Barcelona, Spain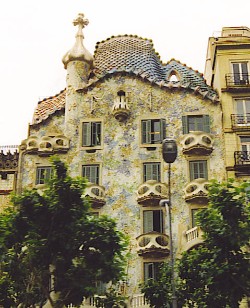 Barcelona terraces of every design and color
Entrance to inside market
Barcelona more terraces and balconies

Statue of

Christopher Columbus;

spot
where he sailed from to discover America.
Labels: Armageddon, Bible Prophecy, Bush Brotherhood of Death
Stumble It!
Post a Comment
<< Home