8.1 million:

total number of Americans currently unemployed
(Bureau of Labor Statistics, 3/04).
2.4 million:

number of people who have become unemployed
since 2001 (Bureau of Labor Statistics, 3/04).
1.2 million:

net jobs lost from the economy since 2001
(msnbc.com, 8/04).
56.9%:

percentage of re-employed workers who had to take lower-
paying jobs (New York Times, 8/04).
$151 million:

a
mount cut for employment training from total budget of
$154 million (House Budget Committee, 2/04).
2,142,000:

number of new jobs projected by Bush administration,
June 03 to January 04 (Economic Policy Institute).
296,000:

actual number of new jobs created by Bush administration,
June 03 to January 04 (Economic Policy Institute).
135,000:

average number of jobs created monthly under every
president since Truman (House Appropriations Committee, 3/04).
-79,189:

average number of jobs created monthly under Bush
(Bureau of Labor Statistics, 3/04).
50%:

increase in out-of-pocket health care costs for workers
since 2001 (Kaiser Family Foundation, 4/04).
10%:

increase in bankruptcies since 2001 (American Bankruptcy Institute, 3/04).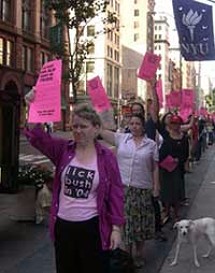 *
Unemployment Line
the level of wealth inequality today is almost double what it was in the mid-1970s.

The top 5 percent own more than half of all wealth

.
Unions now represent less than 10 percent of the workforce in the private sector in the United States.
Yet they still represent the single best means for workers to improve their economic conditions. . . .
The single fact of belonging to a union raises the average worker's wage more than 28%,
and it is far higher in the area of benefits.

(
Multinational Monitor, May 2003)
*
Offshoring American Jobs:An Economic Catastrophe in the Making
Since 2001, more than 2.5 million American jobs have vanished

.
China is urged to revalue its currency and thus make its labor and products more expensive.

If only China, India, South Korea and other Asian countries could be made to increase their costs of production, they would lose their power of attraction.
*
Exporting American Jobs
the political remedies being suggested to stop outsourcing are virtually guaranteed to make things worse.

Does anyone seriously believe that, if we begin creating international trade restrictions to limit the outsourcing of American jobs, other countries will not pass similar restrictions on the outsourcing of their jobs to America?
*
Outsourcing
According to the latest figures, American companies added far fewer workers to their payrolls last month than economists had forecast. This comes a week after the equally unexpected news that growth slowed significantly in the second quarter. How worried should George Bush be?

*
Rescue American Jobs Video
Videos About Americans & Jobs
*
US Reports Record Trade Deficit for 2004, as China Announces January Export Surge
As the United States records its 29th consecutive year of trade deficits,
we must acknowledge our current policy of free trade at all costs is not working and begin a real dialogue on balanced trade like our principal trading partners pursue.
*
Huge Trade Deficits
Our nation's trade deficit is certainly not improving. In fact, it's worsening almost every month: The deficit in November surpassed $60 billion for the first time ever, putting last year's trade gap on pace to top $600 billion.
That would be 25 percent higher than 2003's deficit, and nearly 50 percent higher than the deficit in 2002.
*
More Important than
Labels: Armageddon, Bible Prophecy, Bush Brotherhood of Death
Stumble It!
Post a Comment
<< Home