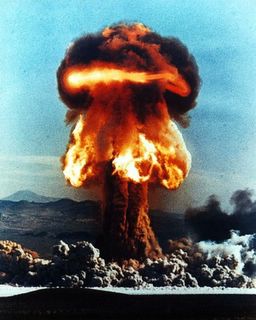 Nukes

In the Middle East
The specter of a nuclear Iran is bound to have repurcussions elsewhere in the Middle East. Iranians aren't Arabs, and they are Shi'a -- not Sunni -- Muslims. Throwing in a post-election Iraq dominated by Shi'a Muslims, it's not difficult to understand why Sunni Saudi Arabia and Sunni Egypt would fear an Iran armed with nuclear weapons. And toss in Syria, whose people adhere to a Muslim sect that is neither Shi'a nor Sunni, and you have all the necessary ingredients for a truly poisonous brew.
Before jumping to the conclusion that this dangerous situation is the result of an Iraq invasion-induced destabilization, consider this: the Iranian nuclear program would be underway had the invasion not taken place. And take this into account: had Saddam not be overthrown, it would have been only a matter of time before sanctions would have been removed, and, when that happened, Iraq would have restarted its nuclear effort.


That situation would, if anything, be even more dangerous, as there would then be two countries bordering on each other that fought an eight-year-long war in the 1980's that would now be armed with nuclear weapons. Iran and Iraq would eventually bear a stark similarity to India and Pakistan. We know how close those two nations have come to firing their nuclear-armed missiles at each other. So, while the current situation is fraught with danger, the alternative would be still more perilous.
After more than a year of disquieting debate on whether or not Iran's nuclear program was meant for peaceful civilian use or for militaristic purpose, there seems to be increasing evidence that Iran favors the latter. More recent reports have largely highlighted the unrepressed tough-talk from Iran that indicates neither compromise nor surrender. In a path betraying an uncanny resemblance to the one North Korea has adopted in the previous two years, Tehran seems determined to call the world's bluff and persevere on its highly provocative course.
Stumble It!
Post a Comment
<< Home