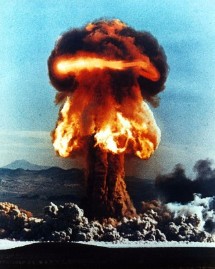 "If I seek to acquire weapons of mass destruction
this is a religious duty. How we use them is up to us."
(Quote from Osama bin Laden. Source: Pakistani News
Agency 1998, during the Clinton Administration.)
*
Bin Laden Has Suitcase Nukes
A book by an FBI consultant on international terrorism says Osama bin Laden's al-Qaida terrorist network purchased 20 suitcase nuclear weapons from former KGB agents in 1998 for $30 million.
The book,

"Al Qaeda: Brotherhood of Terror,"

by Paul L. Williams, also says this deal was one of at least three in the last decade in which al-Qaida purchased small nuclear weapons or weapons-grade nuclear uranium.
Williams says bin Laden's search for nuclear weapons began in 1988 when he hired a team of five nuclear scientists from Turkmenistan. These were former employees at the atomic reactor in Iraq before it was destroyed by Israel, Williams says. The team's project was the development of a nuclear reactor that could be used

"to transform a very small amount of material that could be placed in a package smaller than a backpack."
"By 1990 bin Laden had hired hundreds of atomic scientists from the former Soviet Union for $2,000 a month – an amount far greater that their wages in the former Soviet republics," Williams writes.

"They worked in a highly sophisticated and well-fortified laboratory in Kandahar, Afghanistan."
This work continued throughout the 1990s, the author says.
In 1993, according to the book, Jamal Ahmed al-Fadl, a bin Laden agent who turned into a Central Intelligence Agency source, purchased for al-Qaida a cylinder of weapons-grade uranium from a former Sudanese government minister who represented businessmen from South Africa. The purchase price was $1.5 million and the uranium was tested in Cyprus and transported to Afghanistan.
Al-Fadl reported that, at the time of this transfer, al-Qaida was already working on a deal for suitcase nukes developed for the KGB.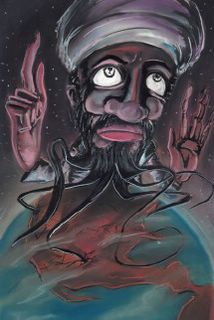 References ....
*
Suitcase Nukes
*
Bin Laden Said To Have Nukes
*
Al Qaeda claims to have bought nuclear weapons
--------------------------------------------------------------------------------------------------
It's very likely that bin Laden has chemical and biological weapons, and possibly as many as 20 Russian nuclear warheads.
Fortunately he doesn't have a way to deliver them,
and must therefore devise unconventional means such as those used in bringing down the WTC.
It's possible that the recent attacks were merely a ruse designed to increase the size of the army the US was already planning to send into Afghanistan. Once this huge powerful army is in place, sometime after the fight has begun he may choose to lure them to a predetermined place. The big bugaboo has been that no one can find this guy, not even Clinton's hired assassins.
All he has to do is give away his position, put up a valiant fight, and wait for the forces to converge. Then he can vaporize the cream of the US military along with those allied with her, a devastating blow.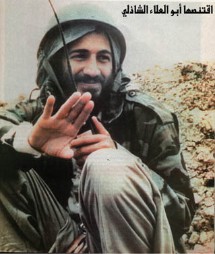 Don't think he's afraid to die, or to martyr fellow muslims and the entire nation of Afghanistan if necesary. He left a life of luxury in Saudi Arabia to fight the Russians in Afghanistan, and believes he's living
"the extra time"
now because he should have been killed during that war. Anyone who dies in the cause of fighting the infidel goes directly to paradise. Is this guy a latter day Hasan-i Sabbah or what?
Boston Globe:
In 1998, the Saudi-owned, London-based
Arabic newspaper, Al-Hayat, declared bin
Laden had obtained nuclear weapons - a
report that was never confirmed.
But several months later, the Arabic
newsmagazine Al-Watan reported bin Laden,
working with organized crime sources in the
former Soviet republics, had obtained nuclear
material.
The Saudi exile reportedly gave Chechen
gangsters $30 million in cash and two tons of
opium in exchange for about 20 warheads,
the magazine said.
Officials have not confirmed the purchase
Burton Hearing Jan. 2000

But how often these days do hearings have witnesses led in with black bags over their heads? Stanislav Lunev, a former Soviet spy, not only had the bag but also a screen to shield him from the audience as he repeated allegations from his 1998 book that he scouted for "drop sites" in this country for weapons caches, though he has no idea if any were actually planted. (Before the hearing, Lunev apparently felt safe enough not to wear the bag while he was out in the hall.)
And how often do lawmakers, in this case Weldon, hold up briefcases and announce: "I have a small atomic demolition device I'd like to bring up to you." Burton quickly assured the hearing that it was a "mock-up" created by the CIA. Or it might have been created by a Weldon staffer, who also testified at the hearing. (Staffers are not permitted to ask questions and answer them, which can save time.)
Burton was upset that the State Department sent no one there--the FBI and the CIA apparently did--and won't even respond to questions about weapons caches.
State says the senior Russia types Burton wanted were unavailable to schlep to California and, in any event, they don't do such investigations.
*

Burton Hearing Jan. 2000
Usama Bin Laden allegedly has already purchased a number of nuclear suitcase bombs from Chechen organized crime groups and there have been reports that he has backpack bombs.
Some nuclear suitcase bombs may have been developed by the Soviet Union during the Cold War. There is a fear that some of the devices may be sold to terrorists. Russian scientists have testified they are "absolutely sure" suitcase bombs were created, though the Russian government has steadfastly denied their existence.
Former Russian National Security Adviser Alexandr Lebed in 1997
alleged that up to 100 portable bombs that looked like suitcases were unaccounted for since the 1991 breakup of the Soviet Union. He said the devices have an explosive capacity of one kiloton — the equivalent of 1,000 tons of TNT — and could be activated by a single person, killing as many as 100,000 people.
U.S. officials have not denied the existence of such weapons, but have cast doubt on claims that some may have gone missing since the end of the Cold War.
"We have not seen any hard evidence of suitcase-sized nuclear devices unaccounted for or falling into the hands of terrorists or rogue states," former FBI Director Louis Freeh told Congress two years ago.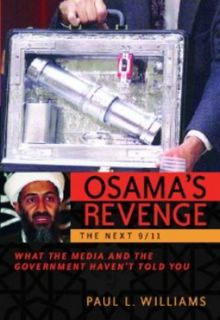 The plot outlined in this lurid exposé is a frightening one: Osama bin Laden has nuclear weapons—lots of them—and is preparing to use them to create "an American Hiroshima."

Williams, a journalist, former FBI consultant and author of The Vatican Exposed: Money, Murder and the Mafia, contends that bin Laden has purchased of dozens low-yield Russian "suitcase" atomic bombs and gotten his hands on enough weapons-grade uranium to build Hiroshima-sized 10-kiloton devices, and that one nuclear device may already have been smuggled into America.

Contrary to the subtitle, Williams relies heavily on media reports to flesh out the arch-terrorist's nuclear intrigues,
detailing bin Laden's lucrative heroin trafficking operations, his ties to the Chechen mafia and to Pakistani nuclear scientists, and his network of thousands of sleeper agents in the United States

.
He criticizes the Clinton and Bush administrations for inept attempts to apprehend bin Laden, but offers little advice on what to do.

As if to heighten readers' anxiety, he reprints several al-Qaeda manifestoes calling down destruction on America and includes a lengthy treatise on the devastation an atom bomb would wreak on lower Manhattan.

He doesn't tie up all the loose ends in this hasty treatment; on the question of why, if it has nukes, al-Qaeda hasn't yet used them, he can only assume that bin Laden is patiently awaiting the perfect moment for a multiple-target strike.

But after 9/11, alarmist scenarios have to be taken seriously, and the disquieting evidence he has amassed provides a useful reminder of the gravest threat in the war on terror.

Russian Maffia
.... On the influence of Russian mobsters, "The mafia controls the government and the political establishment, and as a result of this they have a huge influence over (President Boris) Yeltsin.''

Lunev, who is in the federal witness protection program, said he masqueraded as a reporter for the Russian news agency ITAR-Tass for three years during which he scouted "drop sites" for weapons caches in the U.S. But he said he has no idea if they were ever planted.
Rep. Curt Weldon, R-Pa., suggested in November that the spy caches might include suitcase-sized nuclear weapons that can produce a 10-kiloton blast.
Analysts say large quantities of radioactive material -- such as cobalt 60, iodine 131 and strontium 90 -- have disappeared from the former Soviet Union.
References ....
*
Nuclear "Suitcase" Bombs
*
Al Qaeda bluffing or
Labels: Armageddon, Bible Prophecy, Bush Brotherhood of Death
Stumble It!
Post a Comment
<< Home