The Bush Any Time Any Place Nuclear War Option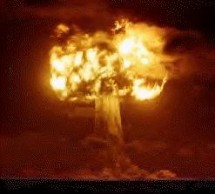 (Note: References link to

Government sources,

and dictated

official American Government

policy.)
The Bush administration has manipulated the horror and outrage generated by the 9-11 crimes against humanity to promulgate an extremist military and nuclear policy.

In the name of a nebulous "war on terror", Bush claims the right to wage unilateral war anywhere, anytime, against any nation or organization, for any reason and by any means necessary (including using nuclear weapons against non-nuclear nations) if it serves the national security interests of the United States.
reference ...
*
Bush Any Time Any Place Nuclear War Option
Rumsfeld approved a top secret

"Interim Global Strike Alert Order"

directing the military to assume and maintain readiness to attack hostile countries that are developing weapons of mass destruction, specifically Iran and North Korea.

Two months later, Lt. Gen. Bruce Carlson, commander of the 8 th Air Force, told a reporter that his fleet of B-2 and B-52 bombers had changed its way of operating so that it could be ready to carry out such missions. "We're now at the point where we are essentially on alert,"

reference ...
*
A global strike plan, with a nuclear option
Under the cloak of secrecy imparted by use of military code names, the American administration has been taking a big - and dangerous - step that will lead to the transformation of the nuclear bomb into a legitimate weapon for waging war.

reference ..
.
*
The U.S. Removes the Nuclear Brakes
... "We are so dominant in space that I pity a country that would come up against us," said Maj. Gen. Franklin Blaisdell, director of space operations for the Air Force, eight days before Operation Iraqi Freedom began.

The Bush administration is laying the groundwork to eventually expand and entrench that dominance.

reference ...
*
US the leader in war plans for space
Other References ....

*
Strategic Air Command Instant Historical Videos Online
*
Global Security
*
NUCLEAR WEAPONS
Labels: Armageddon, Bible Prophecy, Bush Brotherhood of Death
Stumble It!
Post a Comment
<< Home