911 Deception: Re-Opening 911
911 Deception
World Trade Center Revisited ...
*
5 Part Video "911 Deception"
9-11 Research ....
An Attempt to Uncover the Truth About September 11th, 2001 ....

We all know the official story of September 11th: four jetliners were hijacked by groups of four and five Arabic men armed with box cutters, who proceeded to fly three of the four jets into the Twin Towers and the Pentagon. Subsequently the towers, weakened by the impacts and fires, collapsed into piles of rubble.


Later in the afternoon 47-story Building 7, also weakened by fire, collapsed. (Or did you miss that detail?)


September 11, 2001: Timeline of Terrorism ...




*

Timeline of Attack




"Only professional demolition ... accounts for the ... World Trade Tower collapses," - Bush Chief Economist for Labor.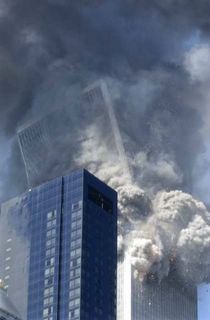 reference ...


*

The Evidence


The FBI had compiled a list of hijackers within two days, and it was so obvious that Osama bin Laden had masterminded the operation from caves in Afghanistan, that there was no need to seriously investigate the crime or produce evidence. The "retaliatory" attack on the Taliban would soon commence.

NO Plane Hit the Pentagon Video ...
*
CNN No Plane Hit the Pentagon Video
*
7 of the 9/11 Hijackers are Still Alive
*
Hijack 'suspects' alive and well
reference ...
*
9-11Research
*
WTC Terror Attack Photo Slideshow
*
Pentagon WTC Photo and Video Analysis
Historical 911 Videos ...
*
1st Plane Trade Tower Hit
*
2nd Plane Different Angles
*
2nd Plane Crash
*
2nd Plane Trade Towers Hit
*
Trade Center Falls
*
911 Tower Collapse
*
911 Firefighter Clips
*
911 Documentary Videos
*

What Hit the Pentagon?
More 911 Related Resources & Videos ...
*
911 Blogger
*
Pentagon Attack Hoax?
*
911 Photo Slideshow
The Jewish 911 Connection
Read the book ONLINE ...
*
HOW JEWISH MANIPULATION KILLED THOUSANDS
*
911 a saga of deceit and lies
Labels: Armageddon, Bible Prophecy, Bush Brotherhood of Death
Stumble It!
Post a Comment
<< Home