Celebrating the 4th of July Europe Style
*
4th of July Celebration Munich ,Germany



US Army Germany




4th of July Celebrations




reference .

..


*

US Army Germany 4th of July Celebrations



4th of July
Denmark
The celebrations at Rebild, Denmark is the largest outside USA.
The founder was a Danish-American Max Henius who emigrated to USA in 1881 and settled in Chicago. He never forgot Denmark and he donated the Hills at Rebild to be used as a place for Danish American relations.
During this 90 years the celebrations have been attended by many known Americans including former presidents.
Raymon Burr, Richard Nixon, Hubert H Humphrey, Danny Kaye, Walther Cronkite, Victor Borge, Walter Shirra, Walt Disney are a few of the keynote speakers from the last 40 years.
references ...
*
4th of July Celebration Denmark
*
4th of July Celebration Switzerland



Europe Reassesses US




On Fourth of July (2004)


"When Europeans look over at the roots they planted in America, they see root rot," said Barry Goodfield, an American psychotherapist and conflict specialist who has worked in Europe since 1972.

In each of these nations, citizens regard themselves as no less free than Americans, he said, with elections, an unfettered press and, in some cases, foreign policy experience dating back centuries.

"They have misgivings about our judgment, our motives, our implementation," he said by telephone from the Netherlands. "Democracy is ultimately about choice, and Europeans see choice being taken away."

reference ...


*

Europe Reassesses US on Fourth of July






4th of July

Irish View
On this day 227 years ago, American people declared their desire 'to dissolve the political bands which connected them to another'.

On this, their Independence Day, I'm proposing that Ireland do the opposite: that we reclaim the ancient intensity of our relationship with Europe, and in the words of Benjamin Franklin, that 'we pledge our fortunes and our sacred honour' to forging ever closer bonds with the peoples of our community and our continent - the European Union.

reference ...


*

Kenny calls for Irish membership of EU defence entity






4th of July

England
If it were not for England, there wouldn't be any American Independence Day. The English spend most of their time on this day thanking God that they are free of the Yanks. They spent a lot of time thanking God that they are free of all those former colonies they once owned.

They have a lot of free time to do so, ever since their Empire collapsed, their coal mines played out, and the Industrial Revolution came and went, leaving their anachronistic monarchy in the dustbin of history.

"God save the Queen!" sing the English. "She's wearing the Royal Jewels and we can't afford to replace them if she skips town for America, mate."




4th of July

France
The French love to hate everything about the Americans. They hate their culture, their people, and the dollars they infuse into their economy through tourism and the Marshall Plan. Lady Liberty herself was a gift from the French, and it is her that embodies the spirit of liberty itself that is so precious a commodity on the Fourth of July.

Only an American would be so rude to point out that the damned thing was designed badly and an American engineer had to fix the thing.

The Mona Lisa, the greatest masterpiece of all time, only by chance resides in France, has been stolen many times out from under the long noses of the French gendarmes, and was not painted by a frog, but a whop.

"If it were not for this Fourth of July Jerry Lewis movie marathon," say the French, "then there would be no reason for America to exist at all."




4th of July

Netherlands
The Dutch people of the Netherlands revel in the freedoms that the Americans hold so near and dear to their hearts. They appreciate the beauty of a society hell-bent on mass consumption, the overproduction of greenhouse gases, and the refusal to limit such environmental disasters in the name of liberty and freedom.

"Fill another sandbag and toss it up here," say the people of the Netherlands as they try to hold back the rising seas. "The Americans must celebrate this great day with blasting away more of the ozone layer." They ooh and aah to the pictures of fireworks over the television.




4th of July

Poland
Invaded countless times throughout European history, the Polish people are grateful for liberation at the hands of the Americans after World War Two and marvel at the lack of kickstands on the Sherman tanks.

They consider this to be a fair trade for countless jokes at their nation's expense, and will wax poetically about the greatness of the Declaration of Independence as they search frantically for where they stashed the recipe for ice cubes.

"We love America!" they shout, and they turn the chair frantically as one of their number stands on top holding the lightbulb. "Lady Liberty lights our way to freedom!" The new light bulb shines, and they all rejoice.




4th of July

Russia
Most Russians are angry over the end of the Cold War, which brought about the collapse of their military-based economy. One in particular is livid over the collapse of his country and the source of his lame humorous anecdotes broadcast all over American television. Who knew that the price of freedom was going to be his career and livelihood?

"In Russia, we..." stammers Yakov Smirnov, a hapless Russian comic, "Well, we used to... I mean... nevermind!" He cries... possibly for joy that America is there to guide the way.




4th of July

Turkey
Hail to the brave Turks! When not at war with their mortal enemies, the Greeks, they find time to praise their beloved allies, the Americans. From minaret to minaret, they sing our praises at dawn, noon, and dusk.

"For their Thanksgiving, they always have Turkey at their table," say the Turks. "It is nice of them to remember us in such a way. Flalafel and skiskebabs are a wonderful way to celebrate thanks to Allah as well as to ring in their freedoms. Now what is that fat, stupid cooked bird they serve for dinner that day called, again?"


4th of July

Ukraine
Ukranians still set their sights on America. The land of the free, the home of the brave, and the target zone for nuclear destruction. The remaining Soviet missiles they own rarely waver from their original settings, and for a few hundred thousand they'd be happy to sell one of them to you.

"You want fireworks?" offer the Ukranians. "We'll give you fireworks."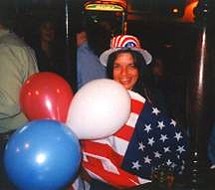 Labels: Armageddon, Bible Prophecy, Bush Brotherhood of Death
Stumble It!
Post a Comment
<< Home