Videos:The Real New Orleans
"Most of the stuff written about New Orleans is dark, spooky luscious haunted courtyard crapola," she says. "New Orleans is dark, spooky, luscious and all that, but that's only the stage set. Underneath it's both more ominous and just ... stupid.
I live in a Third World city," she says, complete with a corrupt local government ("politics here is more a spectator sport... we mostly love the scandals"), a population that's three-quarters black, has its own weird religions and speaks its own dialect, and a poor people's obsession with food.
"A Confederacy of Dunces," is really the only honest book about New Orleans, because it's fundamentally about a city that's just stuffed full of divine stupidity. Look at where they built the place – it's sinking, it's full of mosquitoes, it breeds malaria and yellow fever."
She stops, finishes her coffee in two quick gulps, and then goes on, covering magic shops, the murder rate (recounting the details of a series of sensational murders in New Orleans history), the "gaudy, idolatrous nature" of Catholicism here ("we turn the saints into characters in out lives") and the above-ground cemeteries ("we like to keep our dead in our midst, so we can keep an eye on them"), the culture of conviviality that revolves around, if
"I want to show you something," she says, "if you're up for a little adventure."
"Adventure is my FBI file name."
"I'll drive," she says. We walk out and hop into her big, old American sedan. She grimaces as she reaches around to put on her seatbelt, and explains "I hurt my back a while ago." She looks at me and smiles mischeviously, "turned me into quite the vicodin junkie."
We drive to the 9th Ward, a desperately poor, almost entirely black neighborhood. "This is the New Orleans no one wants to see," she says, as we drive by the little wooden houses and liquor stores. I count three burned out cars, then stop counting. "But this is where it all comes from."
We turn up a side street to the levy see two old ornate Victorian houses built on steamboat fortunes, and then walk up the bank to look at the river. Trash is strewn across the grass, and the water looks oily.
A sign warns against fishing. "Mmm..." I say, "polluted water." "Yeah, listing the fecal chloroform count, it doesn't really put you in the mood to swim, does it?" she says.
We get back in the car, drive around: a rusted-out car in a vacant lot, weeds growing up through the empty windows; a small baby playing in a puddle on the street; four men sitting on a sagging porch, bottles in their hands.
A hand-lettered sign on the side of a church, "In the beginning, Cain killed his brother with a rock. Today Cain is still killing his brother with a rock. Let's stop Cain from killing again." Underneath the sign is a crude drawing of a black Cain killing a black Abel.
"The true madness of New Orleans is not vampires and alligators in the swamps – though this place is fucking haunted – it's this," she says, waving her hand.
"Anyone who comes here and makes more than a cursory exploration will come to the bluntly obvious conclusion that this place is ridiculous and depressing, that the debauchery here is a pure response to heartbreak.
This city has failed so often, there's so many things we can't do – our streets may be full of potholes, our sewer system may stink, our schools may suck, but man, can we throw a party.
That's why there's a big festival every month, a big party... and, um, a permanent one going on in the French Quarter. If your world gets shitty enough, knowing how to have a good time is more than a survival skill, it's kind of a fuck you."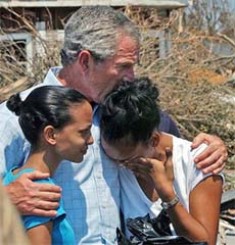 Labels: Armageddon, Bible Prophecy, Bush Brotherhood of Death
Stumble It!
Post a Comment
<< Home