Veterans Day
They

Gave

All
Click & Play
Military & Patriotic
Tunes ....
*
Victory At Sea Mp3's
*
American Patriotic Songs
*
American Military Marches Mp3's
*
American Patriotic Music Online
*
American Patriotic Mp3's
*
American Patriotic Mp3's
*
American Patriotic Mp3's
*
American Patriotic Music/Songs
*
Gallery of
the War Dead
*
Iraq
All American Casualties To Date
*
Cost of Iraq War
Continuous Tally
*
Special Mixed Marches
(click recordings left, click record labels for free mp3's)
*
If I Fall Video
*
World Trade Center Tribute Video
*
On This Day Music Tribute
*
What They Gave To Me Music Tribute
*
Taps
-----------------------------------------------------------------------------------------------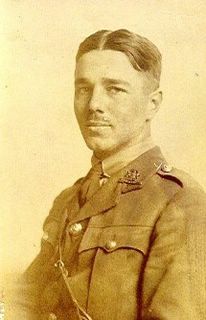 Wilfred Owen 1893-1918
This .... is not about heroes.
... Poetry is not yet fit to speak of them.
Nor is it about deeds, or lands, nor anything about glory, honour, might,
majesty, dominion, or power, except war.
Above all I am not concerned with Poetry.
My subject is War, and the pity of War.
The Poetry is in the pity.
Yet these elegies are to this generation in no sense consolatory. They may
be to the next. All a poet can do today is warn. That is why true Poets
must be truthful.
Wilfred Owen, from a preface to a planned book of his poetry.
*

Poetry of the First World War & Other Wars . . .
"My Dead Are Not Silent"
*
Dusty
My dead are not silent.
They scream in my dreams.
My dead are not still.
They reach for their mothers.
My dead are young soldiers
spent, wasted, discarded.
They paid the price
for political ploys
for strategic follies
for tactical errors.
The politicians and planners
the orderers and senders
discomfited but unshamed
demand that my dead lie quiet
that my grief be smothered
that my ache be shunned
that my memories be denied.
But my dead will not be stilled
They will not be shelved
numbered
catalogued
straightened
into sanitized rows.
Their blood yet drips through my soul
Their moans still echo through my heart.
My dead demand remembrance
My dead demand honor
My dead demand that lessons be learned.
I hear them still
through my dreams
through my laughter
through my prayers
My dead are not silent.
-----------------------------------------------------------------------------------------------
What passing-bells for these who die as cattle?
-Only the monstrous anger of the guns.
Only the stuttering rifles' rapid rattle
Can patter out their hasty orisons.
No mockeries now for them; no prayers nor bells;
Nor any voice of mourning save the choirs,-
The shrill, demented choirs of wailing shells;
And bugles calling for them from sad shires.
What candles may be held to speed them all?
Not in the hands of boys, but in their eyes
Shall shine the holy glimmers of goodbyes.
The pallor of girls' brows shall be their pall;
Their flowers the tenderness of patient minds,
And each slow dusk a drawing-down of blinds.
-----------------------------------------------------------------------------------------------
"All wars are planned by older men
In council rooms apart,
Who call for greater armament
And map the battle chart.
But out along the shattered field
Where golden dreams turn gray,
How very young the faces were
Where all the dead men lay.
Portly and solemn in their pride,
The elders cast their vote
For this or that, or something else,
That sounds the martial note.
But where their sightless eyes stare out
Beyond life's vanished toys,
I've noticed nearly all the dead
Were hardly more than boys."
Grantland Rice
*
Poetry of the First World War & Other Wars . . .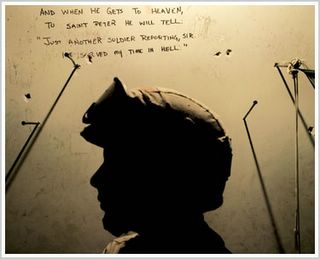 And When He Gets To Heaven, To Saint Peter He Will Tell:
"Just Another Soldier Reporting Sir, For I Served My Time In Hell."
He's five feet two and he's six feet four
He fights with missiles and with spears
He's all of 31 and he's only 17
He's been a soldier for a thousand years
He's a Catholic, a Hindu, an atheist, a Jain
a Buddhist and a Baptist and a Jew
and he knows he shouldn't kill
and he knows he always will
kill you for me my friend and me for you
Buffy Sainte-Marie, from the song "Universal Soldier"
Labels: Armageddon, Bible Prophecy, Bush Brotherhood of Death
Stumble It!
Post a Comment
<< Home