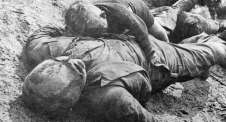 Dresden
Remembered

February 13/14 1945: Holocaust over Dresden, known as the Florence of the North. Dresden was a hospital city for wounded soldiers.
Not one military unit, not one anti-aircraft battery was deployed in the city. Together with the 600,000 refugees from Breslau, Dresden was filled with nearly 1.2 million people.
C
hurchill had asked for "suggestions how to blaze 600,000 refugees". He wasn't interested how to target military installations 60 miles outside of Dresden.
More than 700,000 phosphorus bombs were dropped on 1.2 million people. One bomb for every 2 people. The temperature in the centre of the city reached 1600 degrees centigrade.
More than 260,000 bodies and residues of bodies were counted. But those who perished in the centre of the city can't be traced.
Approximately 500,000 children, women, the elderly, wounded soldiers and the animals of the zoo were slaughtered in one night.
The destruction of Dresden was not necessary for the allied forces to achieve any military advantage.

By February 1945, the German army had been decimated, facing continuous defeats on both the western and eastern front.

Within 12 weeks, Germany was to surrender.





More people died there in the firestorm, in that one big flame, than died in Hiroshima and Nagasaki combined,

though the American people did not learn this until nearly two decades after the war had ended.



The fire bombing was motivated by one primary goal:

as a warning to Russia and the fast advancing Red Army of the armed might of the US and British war machine.



It was a graphic example of the destructive power that they were prepared to use against the civilians and the defenceless of those nations that crossed their path.
Stumble It!
Post a Comment
<< Home